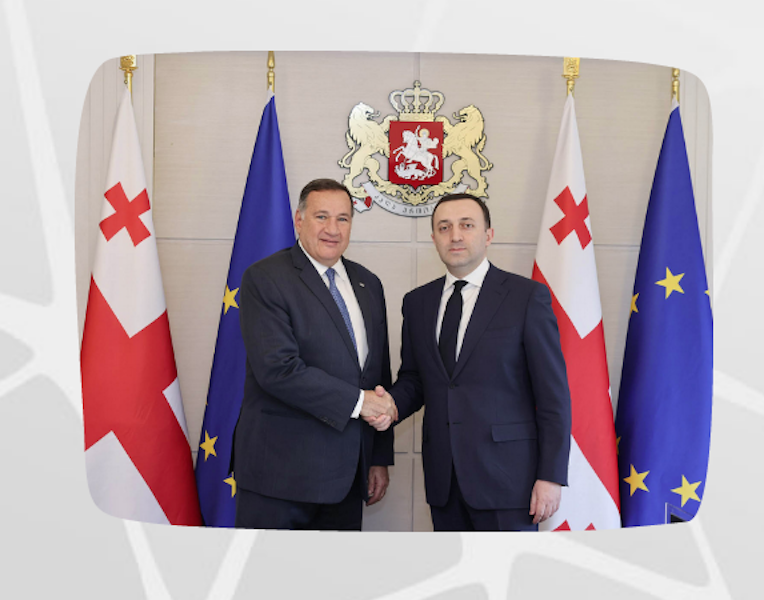 The European Olympic Committees (EOC) yesterday signed the host city contract with the relevant authorities in Georgia ahead of the Winter European Youth Olympic Festival (EYOF) Borjomi-Bakuriani 2025.
EOC President Spyros Capralos and Coordination Commission Chair Florin Miscawere at the ceremony on 2 March 2023 in Tiblisi as the country was confirmed as the host for the 17th Winter EYOF.
Georgia will become the seventh European country to host both the summer and winter editions of the games, after welcoming Europe's best young athletes to Tbilisi in 2015.
Deputy Minister of Culture, Sport and Youth Ioseb Baghaturia, Mayor of Borjomi Otar Arbolishvili, Executive Director of the Municipal Development Fund of Georgia David Tabidzeand Georgia National Olympic Committee president Leri Khabelovwere also present at the signing, showing the support and backing of all major stakeholders' for the Festival.
In his visit in Georgia, President Capralos also met with Prime Minister Irakli Garibashvili and said that the EOC was honoured to be back in the country and reiterated his belief that Georgia will host an excellent edition of the Festival again in two years' time.
Speaking at the signing, he said: "Today we are very honoured to sign this host city contract. Congratulations and I am sure that Georgia will host an excellent Winter EYOF. In 2015 you hosted an excellent summer edition, so it was only natural to say yes to Georgia.
"The summer and winter EYOFs gather the best European athletes between 14 and 18 years old and some of these athletes, later on in their careers, become Olympic champions. Now this festival has become even more important because the events are transmitted live through the EOC TV channel all around Europe. This gives the opportunity for the athletes to be better known in their own countries, but also for the countries and the cities that host the festival to be seen all around Europe – so it is fantastic for your tourism and to attract visitors."
Coordination Commission Chair Florin Misca said: "We are looking forward to working closely with the Organising Committee, the Georgian NOC and the local authorities over the next two years in the build-up to the Winter EYOF 2025.
"Borjomi-Bakuriani is a beautiful part of the country of Georgia and we know they will host a fantastic Festival for all the young athletes to compete in when they visit in two years' time."