Badminton player Varsha Kumar and cyclist Finlay Tarling have been named as Team GB's flagbearers for the Opening Ceremony of the Banská Bystrica 2022 European Youth Olympic Festival (EYOF) this evening (Sunday 24 July 2022).
Kumar and Tarling, both aged 15, were nominated by their sports and then selected by Lizzie Simmonds, Team GB's Chef de Mission for Banská Bystrica 2022, for best displaying the One Team GB values throughout their junior careers.
The Opening Ceremony will take place this evening, marking the beginning of the six-day multi-sport event. Forty-eight European nations will compete across 10 Olympic sports, with Team GB set to take part in badminton, cycling, gymnastics, judo, and swimming. The full Team GB squad can be found here along with more information about Banská Bystrica 2022.
Kumar said: "I'm so excited to be selected as flagbearer because this isn't an opportunity that most people get and it's such an honoured moment for me. I think I'll feel really proud, not just for me but for Great Britain as well, and I'm so thankful to be part of it.
"I'm also really excited to compete this week – I hope to play my best game and hopefully win a medal!"
Tarling said: "I feel really excited to have been selected – It's an honour to carry the flag and lead the team in. I'll definitely feel a bit nervous with the crowds and the pressure of trying not to drop the flag! But I'm just excited to soak it up, enjoy the moment and be part of Team GB.
"I feel confident about the week ahead. We've done all the preparation before it, and now its just the excitement of racing against new people and new fields and having new experiences. I can't wait."
Lizzie Simmonds, Team GB's Chef de Mission for Vuokatti 2022 said: "We are delighted to have Varsha and Finlay selected as Team GB's flag bearers for the EYOF Opening Ceremony. They are both great ambassadors for their sports and are excited to lead the delegation this evening and into the competition week. Being selected as a flag bearer for Team GB is a special opportunity and I look forward to seeing them shine.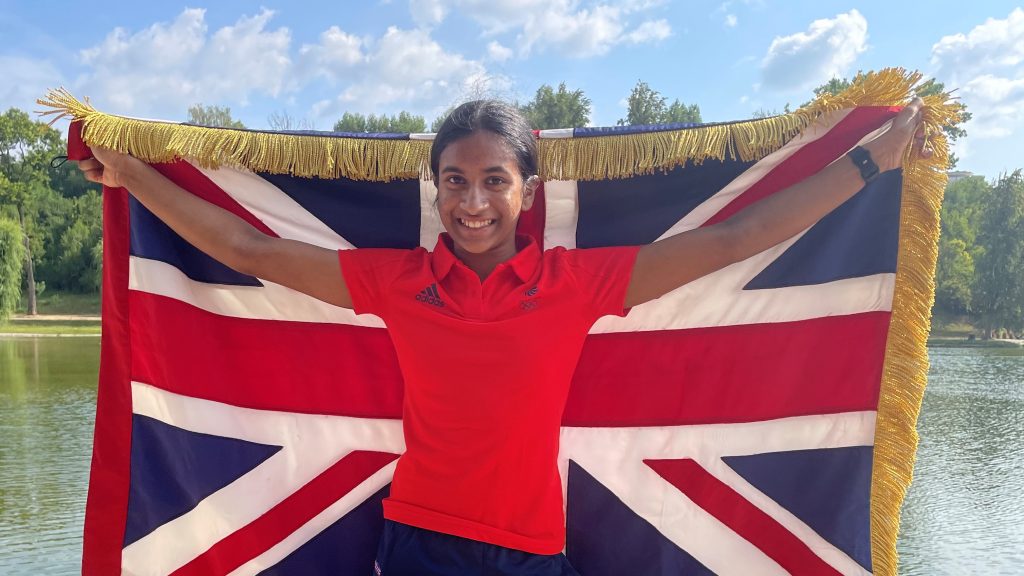 Team GB announce athletes selected for Banská Bystrica 2022 EYOF
Banská Bystrica 2022 will see around 3,500 athletes and officials represent 48 European nations across 10 Olympic sports. Team GB's athletes, who will all be aged 13-18 at the event, will compete in five sports: badminton, cycling, gymnastics, judo, and swimming. Athletics, basketball, handball, tennis, and volleyball complete the sporting programme. The full Team GB squad can be found below.
EYOFs play an important role in the development of young British athletes, providing crucial multi-sport event experience and guiding them towards realising their Olympic ambitions. Many athletes who have competed for Team GB at a summer EYOF have gone on to compete at an Olympic Games, including Rebecca Adlington (Paris 2003 EYOF), Dina Asher-Smith (Trabzon 2011), Nile Wilson (Utrecht 2013), Amy Tinkler (Utrecht 2013), Tom Pidcock (Tblisi 2015) and more.
Leading the Team GB delegation as Chef de Mission at Banksá Bystrica 2022 will be Lizzie Simmonds, who competed in the Lignano Sabbiadoro 2005 EYOF before going on to represent Team GB at the Beijing 2008 and London 2012 Olympic Games. She is also current chair of the British Olympic Association's Athletes' Commission.
Simmonds said: "Being selected for Team GB for the first time is a real honour and privilege, and I'm sure today marks a very proud moment for the 40 talented athletes that have qualified for Banská Bystrica 2022.
"Youth Olympic Festivals are a hugely important events, offering young athletes invaluable international competition and the opportunity to gain first-hand experience in a multi-sport environment. Embracing and learning from an experience like this one can be the first step in a journey towards competing for Team GB at a senior Olympic Games.
"Having experienced an EYOF myself as an athlete, I'm now looking forward to welcoming a new generation of sporting superstars to Team GB, and supporting them to perform at their best on the European stage this summer."
Ruby Evans (gymnastics) said: "I'm super excited to have been selected to represent my country. Although I'm nervous, I'm very grateful to be given this opportunity and to experience it with my training partner, Evie.
"I recently broke my finger so my preparation has been very different to normal – I just want to compete at my best, to experience staying in a village, and to meet new people from different countries that I could possibly compete against in a couple of years' time as a senior gymnast.
"I want to keep progressing and continue competing for my country as it is a great honour. One day I would love to represent Wales at the Commonwealth Games and Team GB at the Olympic Games, so being selected for the EYOF has really inspired me to keep working hard in the gym."
Oscar Bilbao (swimming) said: "I'm very proud to be representing Great Britain at the EYOF, and having just competed at the European Junior Championships in Bucharest, I think I am well prepared to perform my best and hopefully achieve some personal bests!"
Charlotte Jenman (judo) said: "It's an amazing feeling to be selected for Team GB at the European Youth Olympic Festival – I still can't believe it's real in all honesty. Due to crowds and people not being able to spectate at many of the previous events when competing abroad I think the atmosphere in the stadium is going to be outstanding and I'm so excited.
"Going through this selection process and having to fight for my spot at EYOF was a difficult road but I managed to come out on top and fulfil my dream. I've had a really good year so far, medalling at four out of six European cup competitions with one of them being a bronze at the European Championships.
"I'm hoping to go out to Slovakia to bring some fire to the Judo and hopefully take home a medal for GB. It'd be a dream come true."
Banská Bystrica is the 16th edition of the summer EYOF. At the last summer EYOF in Baku, Azerbaijan in 2019, Team GB claimed second place in the medal table with a total of 25 medals, including 11 golds.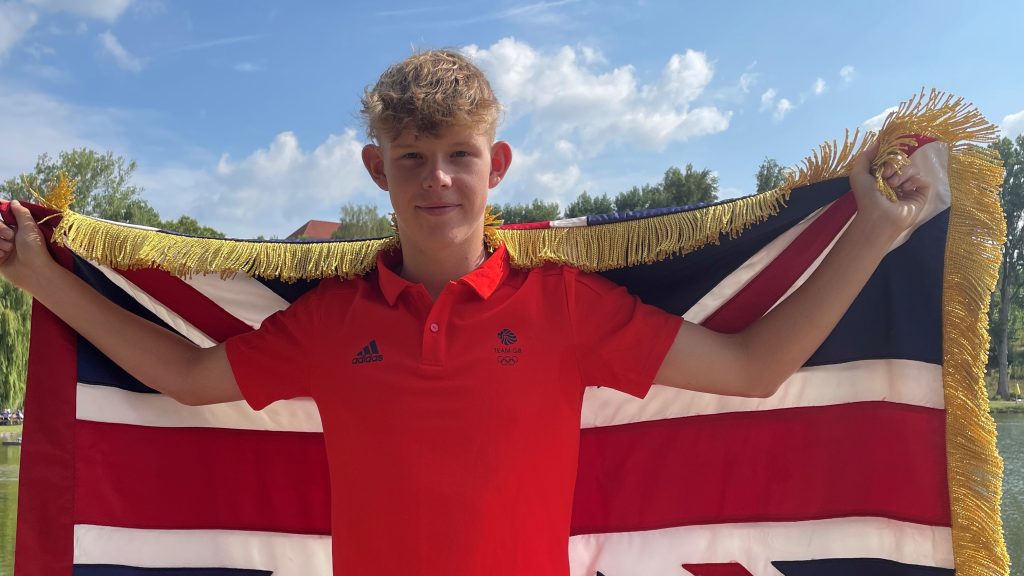 Team GB at Banská Bystrica 2022:
Badminton:
Varsha Kumar, 15, from Birmingham
Harper Leigh, 15, from Newport
Cycling:
Cat Ferguson, 16, from North Yorkshire
Sam Fisher, 15, from Glamorgan
Seb Grindley, 16, from Cheshire
Carys Lloyd, 15, from Kent
Finlay Tarling, 15, from Dyfed
Imogen Wolff, 16, from South Yorkshire
Gymnastics:
Oakley Banks, 17, from Kent
Danny Crouch, 16, from Essex
Ruby Evans, 15, from Cardiff
Evie Flage-Donovan, 15, from Newport
Abi Martin, 14, from Devon
Reuben Ward, 17, from Lancashire
Judo:
William Andrews, 16, from Sheffield
Luke Austen, 18, from Berkshire
Luke Davies, 17, from London
Holly Devall, 17, from Glamorgan
Lewis Fryer, 17, from Hertfordshire
Daniel Givan, 18, from East Lothian
Anya Hassan, 17, from Tyne and Wear
Charlotte Jenman, 17, from Kent
Summer Shaw, 18, from Surrey
Niamh Southgate, 17, from Norwich
Swimming:
Oscar Bilbao, 16, from Hereford
Maisie Brown, 14, from Hampshire
Skye Carter, 14, from Essex
Conor Cherrington, 16, from Dorset
Kianna Coertze, 14 from Midlothian
Mabli Collyer, 13, from Carmarthenshire
Phoebe Cooper, 14, from South Yorkshire
Evan Davidson, 15, from Perth and Kinross
Oscar Dodds, 16, from Jersey
Henry Gray, 16, from London
Ella Homan, 14, from the West Midlands
Jakey Hutchinson, 15, from Derby
Isla Jones, 15, from South Yorkshire
Blythe Kinsman, 15, from Devon
Stefan Krawiec, 16, from East Lothian
Luke McGee, 16, from Tyne and Wear
BEN SHERMAN       BIRDS EYE GREEN CUISINE       CAMELOT
DB SCHENKER      SIMON JERSEY       STH       WHOLE EARTH