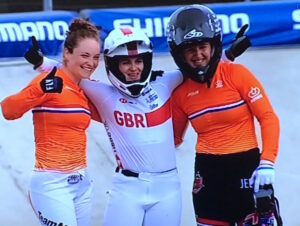 Tokyo gold medallist Bethany Shriever made yet more history on Sunday as she added the BMX World Championship title to her unforgettable Olympic crown.
The 22-year-old was one of the hot favourites for Sunday's showpiece in Arnhem and held her nerve in a final where Alise Willoughby, the defending champion, was one of three riders to crash out.
Shriever had already gone to the front before the crash and that only helped her extend her lead over the rest of the field as she eased her way to the title with a dominant performance.
The Brit took gold ahead of home Holland favourite Judy Baauw, whose compatriot Laura Smulders scooped bronze.
Two-time Olympic champion Mariana Pajon, who Shriever dethroned in Tokyo, finished outside the medals with the Colombian having to settle for fourth place.
The only British woman who competed in the event, Shriever is now the first female to ever hold both major BMX supercross titles simultaneously.
And Shriever, a former world junior champion who previously worked as a teaching assistant, said: "Another gold medal – I can't believe it.
"I've been riding consistently all day and I just wanted to go out there and have a good time, like I did in Tokyo.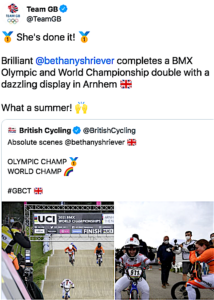 "I went in gate eight, I was relaxed and happy. I had an alright start and just managed to dig in and take the win. I'm gassed!"