Day four at the European Games was marked by an impressive first day of competition for Team GB badminton with a clean sweep of wins in the first group stages.
Up first, Chloe Birch won the toughest match of her group in the women's singles against Sabrina Jaquet from Switzerland (2-1).
Following, in the mixed doubles, both Marcus Ellis and Lauren Smith, and Chris and Gabby Adcock stormed through to win their first games in two sets.
Continuing the morning's success, Kirsty Gilmour won her singles match 21-5, 21-13 against Elisa Wiborg from Norway. Chris Ellis and Chris Langridge and Lauren Smith and Chloe Birch also took their respective doubles games.
Toby Penty finished off the day with pressure on his shoulders to continue the form and in another two set match he cruised to victory in the singles against Ukrainian Artem Pochtarov.
Penty said: "I had a few different pressures and elements to contend with but I'm glad to get a win on the board early doors, it takes a little bit of pressure off for the next match. The team have done really well here today so it's great to make it a clean sweep."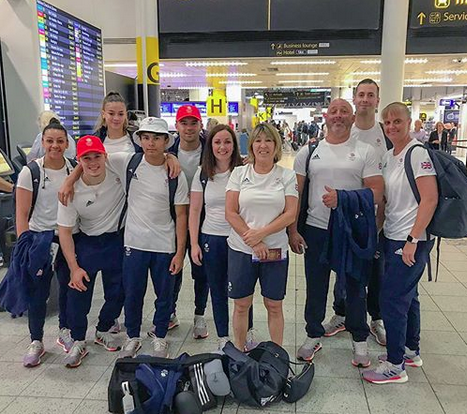 Credit: Lumix UK/Team GB:photos
Elsewhere, Frazer Chamberlain was the pick of Team GB's judo squad. After defeating former World Champion Nemanja Madjov and navigating a tricky fight against Slovakia's Milan Randl, he proceeded to the bronze medal match but sadly lost out to Khusen Khalmurzaev from Russia.
A disappointed Chamberlain said: "The first three and a half minutes went well, I could feel him wearing out, but it's like anything in judo you can get caught at any second so you can't switch off. This is my best senior performance to date. I'm devastated not to get the medal but I'm hungry, I want to win."
In the men's -90kg judo category, up against Frenchman Aurelian Diesse, Max Stewart lost a narrow fight. In the women's -78kg Jemima Yeats-Brown was defeated by Kosovan Loriana Kuka on a close referee call. Natalie Powell over-powered Russian Antonina Shmeleva in round two, however, defeat against Slovenian Klara Apotekar meant repechage where she lost to powerful French fighter Madeleine Malonga.
In the +78kg Sarah Adlington defeated Hungarian Emese Karpati to open her account, but faced the imposing Iryna Kindzerska in the quarter-finals. A loss against the Azerbaijan fighter took her through to repechage, where she lost out to Russian Kseniia Chibisova.
At the boxing, there were no issues for Peter McGrail (5-0), Galal Yafai (5-0) and Pat McCormack (5-0) who all progressed into the final eight without problem. However, it was an unfortunate upset for Frazer Clarke (2-3) in the +91kg category as he lost on split decision against German fighter, Nelvie Tiafack. There was also a loss for Rosie Eccles (1-4) against Irish fighter Grainne Walsh.
At the archery range, only Patrick Huston (6-2) was able to progress from his last 16 match, where he will now face Spanish archer Pablo Acha Gonzalez in the last eight on Thursday. It wasn't to be for either Tom Hall (4-6) or Alex Wise (5-6), the latter agonisingly missing out in sudden death. Attention will turn to the women's individual recurve tomorrow with all three Team GB archers in action.
The trampoline gymnastics got underway at the Minsk Arena with Isabelle Songhurst competing in the individual qualifying event. She produced a confident first set routine that scored her an impressive 47.065 points. She did well to battle through her second higher difficulty voluntary routine as she travelled across the trampoline but she held it together to complete her 10 skills and score 49.085. Her total of 96.870 points sadly not enough to make it to the final, placing her in 11th.
It was the final day of competition in the shotgun trap shooting, with Team GB having representation in two pairs in the mixed event – European Games bronze medallist Aaron Heading with Abbey Ling, while Matt Coward-Holley partnered Kirsty Barr.
Heading and Ling only just missed out on a place in the final four, eventually finishing seventh on a score of 130, while Coward-Holley and Barr struggled to make an impact, scoring 123 in a 20-strong field.

Seonaid McIntosh made her Minsk 2019 debut in the women's 10m air rifle event. McIntosh, who has already won Team GB a quota place for Tokyo in the 50m three positions discipline, recorded a score of 624.5 to finish in 17th position. She returns to action on Thursday, alongside teammate Katie Gleeson.