Team GB's #IsolationGames campaign on TikTok unites the aspiring and actual 'at home Olympians' for British Red Cross
Yesterday brought to a close the successful campaign – #IsolationGames – in a week which saw Olympic sports depart the track, field and water for the more familiar surrounds of living rooms and back gardens.
With the sporting calendar cancelled in the short-term, Team GB (@TeamGB), in partnership with short-form video platform, TikTok, and the British Red Cross, put a spring in the nation's step at a time when everyone needed a lift.
The #IsolationGames invited the nation to take on Team GB athletes by recreating the summer of sport in their own homes as creatively as possible. Not afraid to show the way, a host of Team GB stars showed how to do it, with gymnast, Max Whitlock (@maxwhitlock), using his sofa as a pommel; canoeist Liam Heath swapping a canoe for a unicorn; and bobsleigh's Toby Olubi just about squeezing into his bath/sled.
The campaign which ran for a week became a nationwide hit with 446m hashtag views, 270k videos published, 200m views, 1m shares and over 23m likes. GQ Magazine included the campaign in their '10 coolest things to do from home'.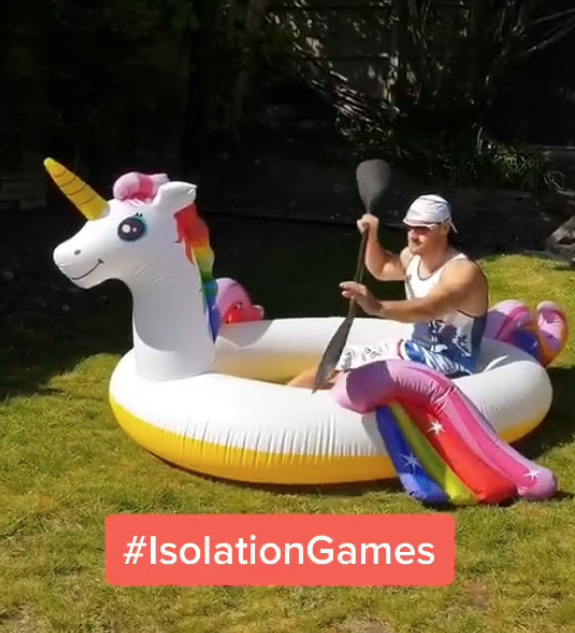 Inspired by Team GB hockey player, Sam Ward, who started creating videos in his back garden, the campaign has become a hit with athletes and members of the public alike, all trying to put their take on much loved Olympic sports.
The campaign has also raised the profile of, and raised funds for, the crucial work the British Red Cross are doing during the COVID-19 crisis.
As part of the initiative, TikTok has been supporting fundraising efforts for the British Red Cross, the official charity partner of Team GB.
Funds raised will help the charity deliver food and medicine to those who need it most, make sure some of the most vulnerable members of our society are safe, and work with the NHS to support people returning home from hospital. The #IsolationGames in-app challenge page and accompanying videos included a link for donations: https://www.redcross.org.uk/isolationgames
Team GB Head of Marketing, Ed Jones, said: "At a difficult time, Team GB is happy to play our small part in keeping the nation active and entertained, whilst also supporting the work to combat COVID-19. This TikTok #challenge brought together all of those intentions in a fun and accessible way. It has exceeded our expectations on every single front, bringing athletes and members of the public together at a time we needed a lift. Most importantly it's increased donations and raised the profile of the amazing work the British Red Cross are doing for our communities and in support of the NHS."
Sam Ward (@samuel_ward13), GB Hockey player and the man that kicked it all off said: "It's been amazing how many people have got behind the #IsolationGames. It's for a fantastic cause and hopefully we helped support the British Red Cross at this time. I'd like to say thanks to everyone who got involved and those who also donated."
George Nikolaou, European Community Manager, TikTok, said: "We've been thrilled to see the community response on TikTok to the #IsolationGames challenge, with users continuing to impress us with their creative and unique take on the sporting theme. With just a bit of imagination, families, friends and Team GB athletes have proved that anyone can recreate the summer of sport in their own home, especially when it's supporting a good cause like the British Red Cross and their Covid-19 response efforts."
Nana Crawford, Social Media Manager, British Red Cross: "The #IsolationGames have been a huge success and we are delighted with the way that people have got involved, had fun and really engaged with, and understood, the importance of what the British Red Cross are doing in the fight against the coronavirus. A massive thank you to everyone who took part, watched the videos and donated."